Our Hiring Process To Build an Inspired App Development Team
3 months ago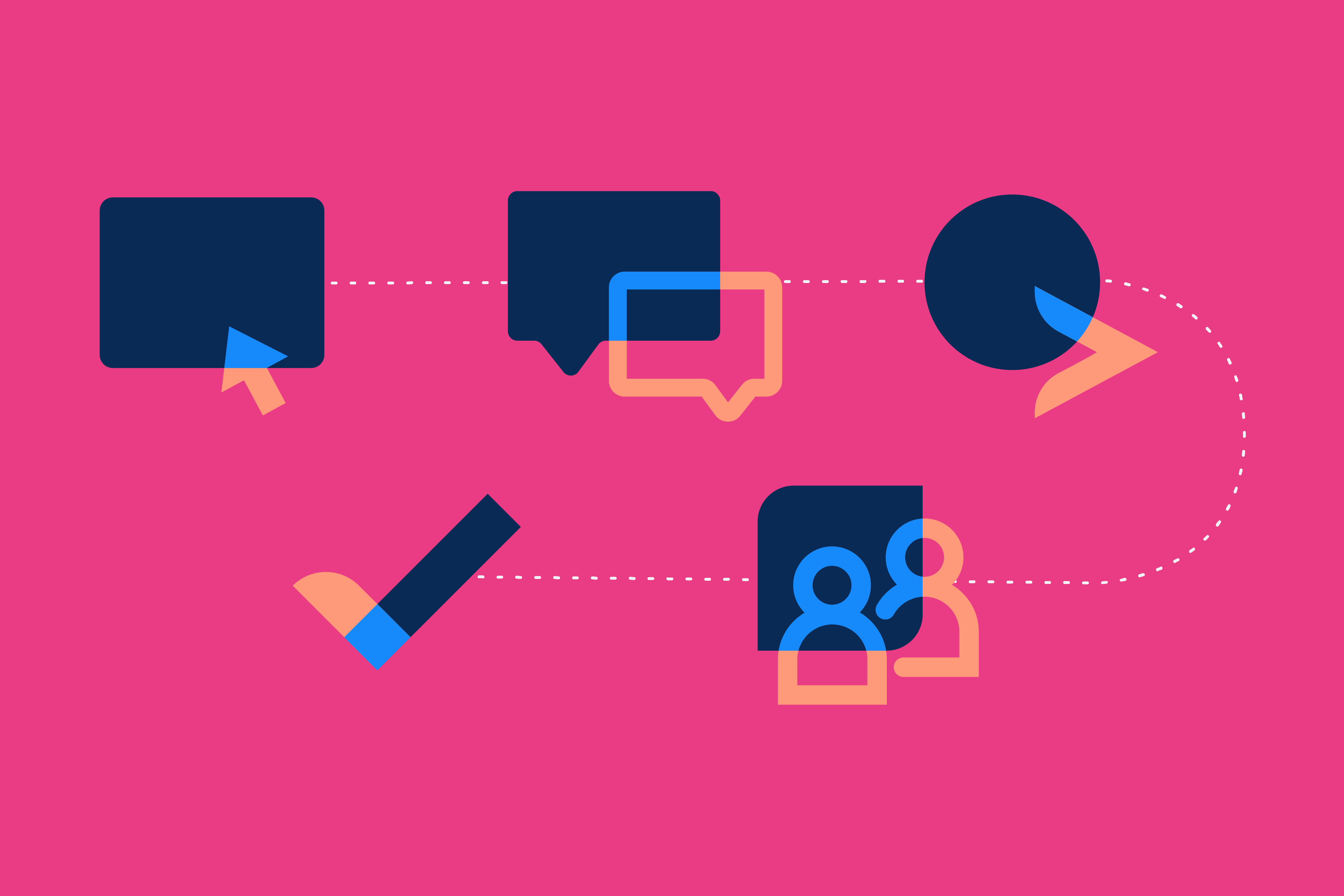 Importance of the Hiring Process
Who we work with makes all the difference. InspiringApps' hiring process is an important part of our culture. Our teams care deeply about who we hire. We're always on the hunt for amazing, talented people who'll make us a better version of ourselves. We're passionate about our craft and united in our desire to build products that make a real difference.
Steps in Our Hiring Process
While we value confidence, there's no room for ego at InspiringApps. Throughout our hiring process, we treat each other with consideration and respect. As a result, you can expect to have a great experience with InspiringApps. Please let us know if there's anything we can do to help.
Job Application
To make it easy for you to apply, we provide a variety of options: InspiringApps Careers page, Built In, LinkedIn (using "Easy Apply"), and other major job boards. You can also simply attach your resume with an email message to jobs@InspiringApps.com.
Applicant Review
When you complete your application, we'll review your unique strengths to see if they're a fit. We truly appreciate your interest in InspiringApps, and we value our connection to you. Although we're a small team, we can confirm that we personally review each application. However, typically, we only reach out to those candidates who are a fit.
Initial Interview
You'll meet with the hiring manager for your role. Typically, that's Stacy Griffin, Director of Operations. We want to get to know you better! That's the purpose of this interview.
Code Challenge for Technical Positions
Our self-guided coding challenge reflects the real-life work environment you'll work in. It allows you to show creativity, thought process, design, and more.
Team Interview
You'll meet with three to four InspiringApps team members to review technical areas and logistics. You can expect a warm and empathetic welcome. We love to meet new people!
Hiring Decision & Offer
We work closely together internally to reach a decision and to let you know the outcome quickly. If we make an offer, you'll start the onboarding process.
Who We Hire
Each member of the InspiringApps team is a highly-talented, highly-respectful contributor. Positive attitudes and trust in each other drive much of our success.
Software developers, designers, and testers work together to deliver client concepts into full-fledged, go-to-market digital products. Together, we build custom web, iOS, and Android apps that are ready for launch.
Our team is made up of…
Accessible Leaders
Accessible leadership creates an environment where the most innovative digital products continue to come to life.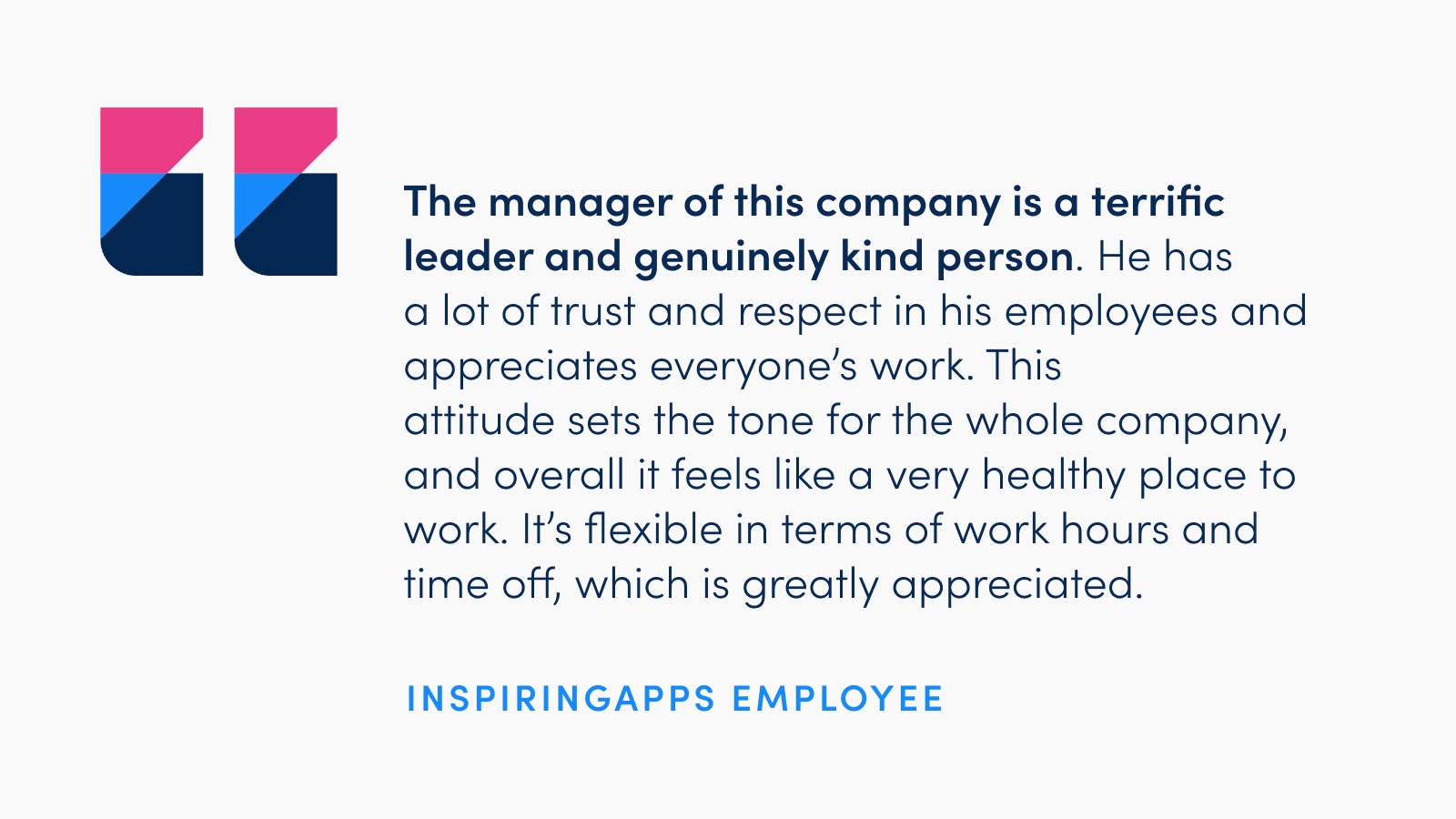 Brad Weber, InspiringApps' President/CEO, has more than 25 years of software development experience. With a passion for software artisanship, Brad founded InspiringApps to build a team that could tackle larger app development challenges than he was able to handle on his own.
Hear Brad explain the importance of culture when building a remote team:
Software Developers
Software developers play an essential role in getting digital products up and running. There are three teams of developers and engineers at InspiringApps: web, Android, and iOS. Serving a broad client base means the business and technical challenges are usually fresh. And, there's a high value placed on the design and polish of apps.
Inspired employees make InspiringApps. Nadia Magallon, a software engineer on the web team, explains how being a dog trainer inspires her and how it relates to her work at InspiringApps:
Designers
Building a successful digital product requires more than development skills—design is crucial for any app project. At InspiringApps, our design skills elevate us from what other development agencies can provide. Our UI/UX designers work to create a well-designed user experience and a beautiful interface for clients.
Aaron Lea, art director, UX/UI designer, and illustrator, has a creative digital design process that puts novel creations into the world:
Testers
Finding and fixing bugs is an essential part of quality testing, but there's much more involved than ensuring apps don't crash. Quality assurance (QA) testing starts with a test plan to evaluate all the app's essential functions. Our QA testing team creates and executes test cases to ensure the app will work as the client and users expect it to.
Dan Harris, part of the testing team, shares his passion for guitar building and how attention to detail can be both art and science:
What we all have in common…
The traits of a successful InspiringApps team member are curiosity, humility, empathy, and persistence.
Curiosity
We're problem-solvers. Whether you're a developer, designer, or tester on our team, you benefit from being curious about what works, what doesn't, and why. Because we're curious about new tools and techniques, we're able to keep up with the latest advances across our disciplines.
Humility
Growth comes from making mistakes and improving. Recognizing we're all a work in progress facilitates that growth without the hindrance of being embarrassed or ashamed.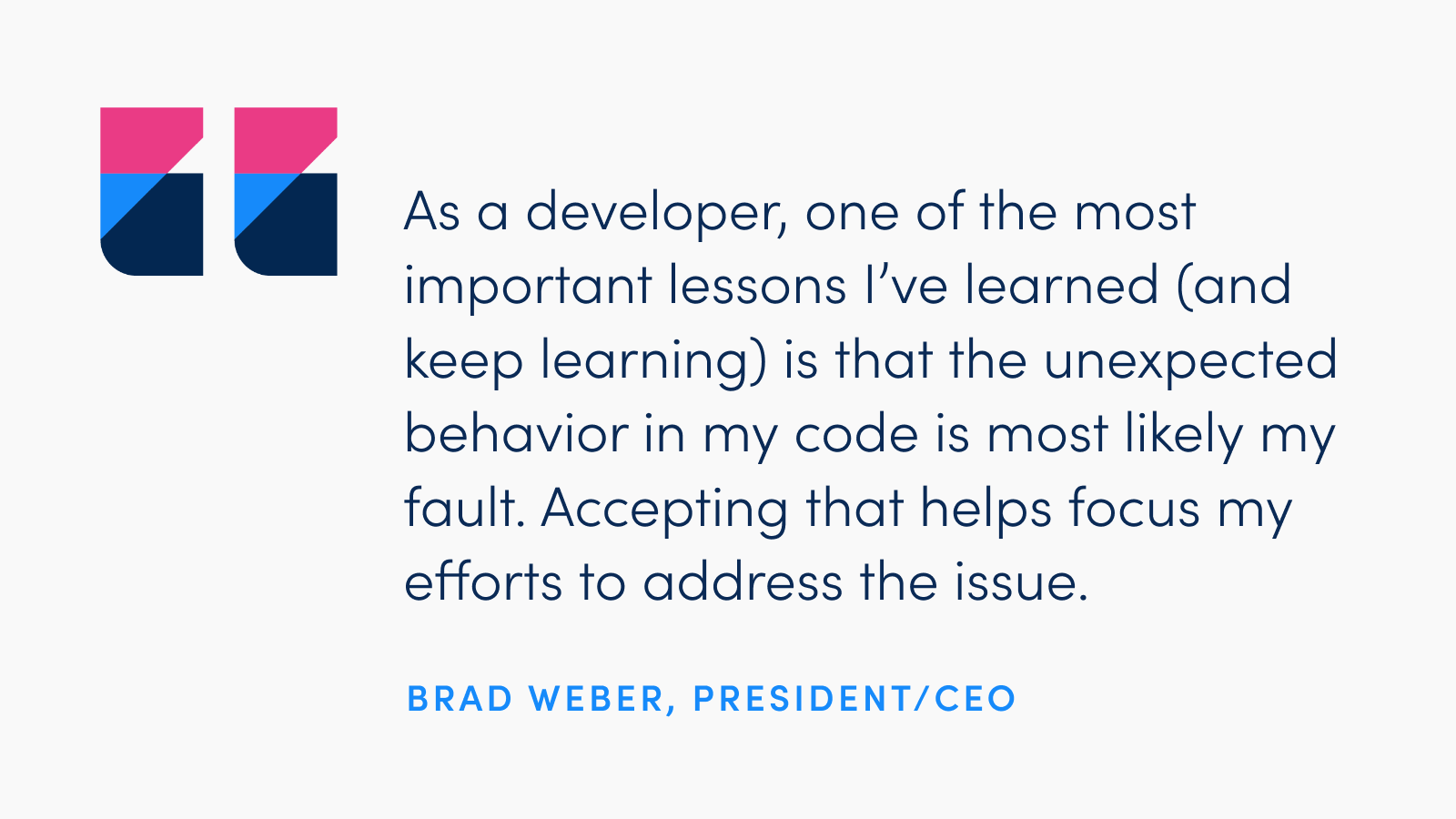 Empathy
Empathetic teams design and build thoughtful products. At InspiringApps, we design and build mobile and web solutions to help people. We help entrepreneurs start businesses around the products we create. We offer convenience, knowledge, fitness, and hopefully a little joy to the consumers we serve. Team members who care about the people using the products we create will craft considerably better solutions than those who don't.
Persistence
Persistence is beyond getting the job done. It's bringing the passion for doing things well to your work every day. We sweat the details, so you'll need the ability, when necessary, to deep dive—to look at something over and over and hone it until it not only works but works well and is easily maintained and changed.
How We're Unique
Our Tech Stack
We've had the privilege of designing and developing 200+ apps and custom software for both innovative startups and Fortune 100 companies. We have experience in aerospace, fintech, healthcare, and a variety of other industries honed over the past 15 years.
Still, technology is moving at hypersonic speed, giving way to more innovative, efficient, and engaging ways to do the things we love. We work on novel methods for our clients to harness technology to transform how people interact with the world around them.
Emerging technology can reshape industries and experiences and guide businesses and consumers into a new era of communication—so the graphics you see below are just a representation of a tech stack that's constantly evolving.
Technology We Use: Engineering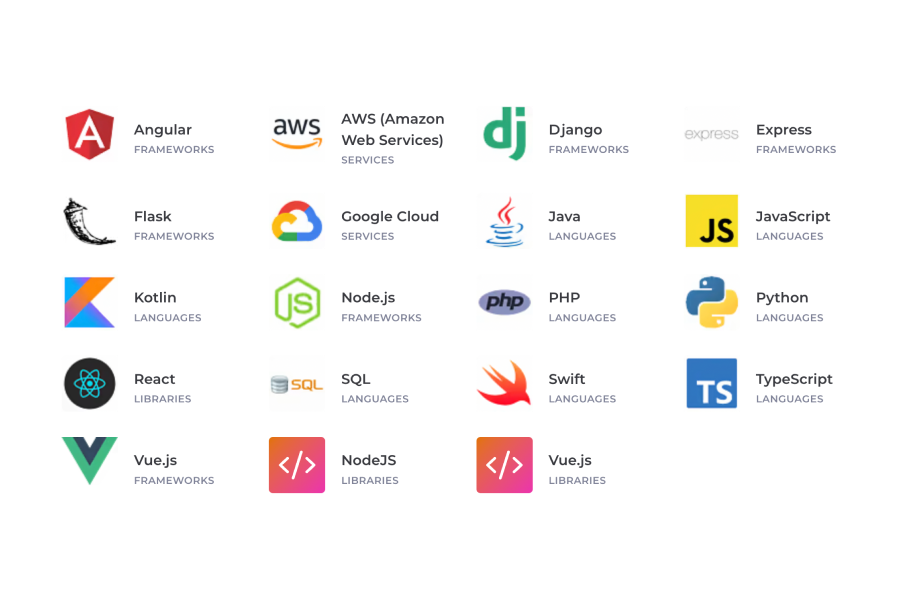 Technology We Use: Product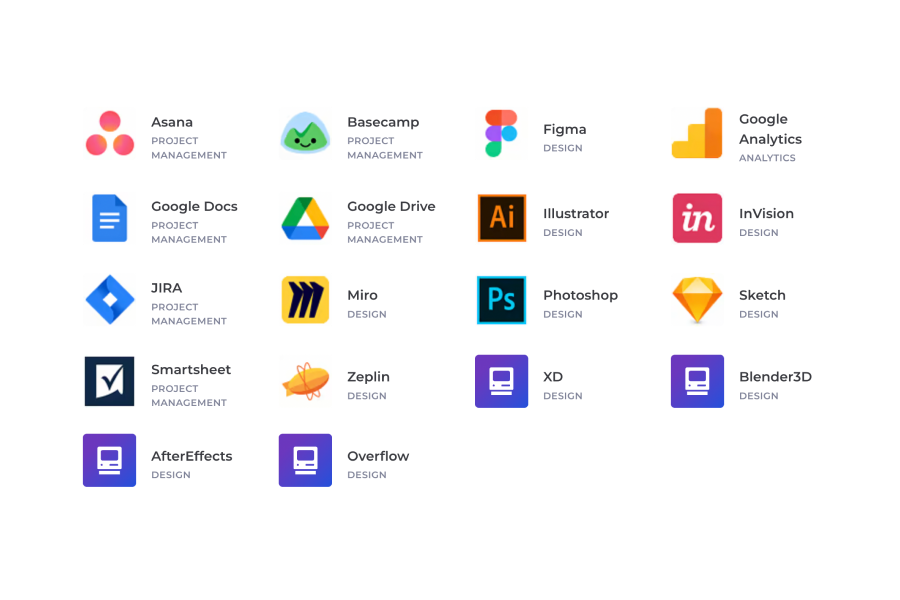 Values To Work By
InspiringApps designs and builds mobile, web, and custom apps, providing strategic business solutions and immersive experiences that transform ideas into reality. We help companies impact their employees, customers, and communities by creating strong partnerships with inspired companies.
In concert with the above mission statement, the following core values shape who we are in and out of our office: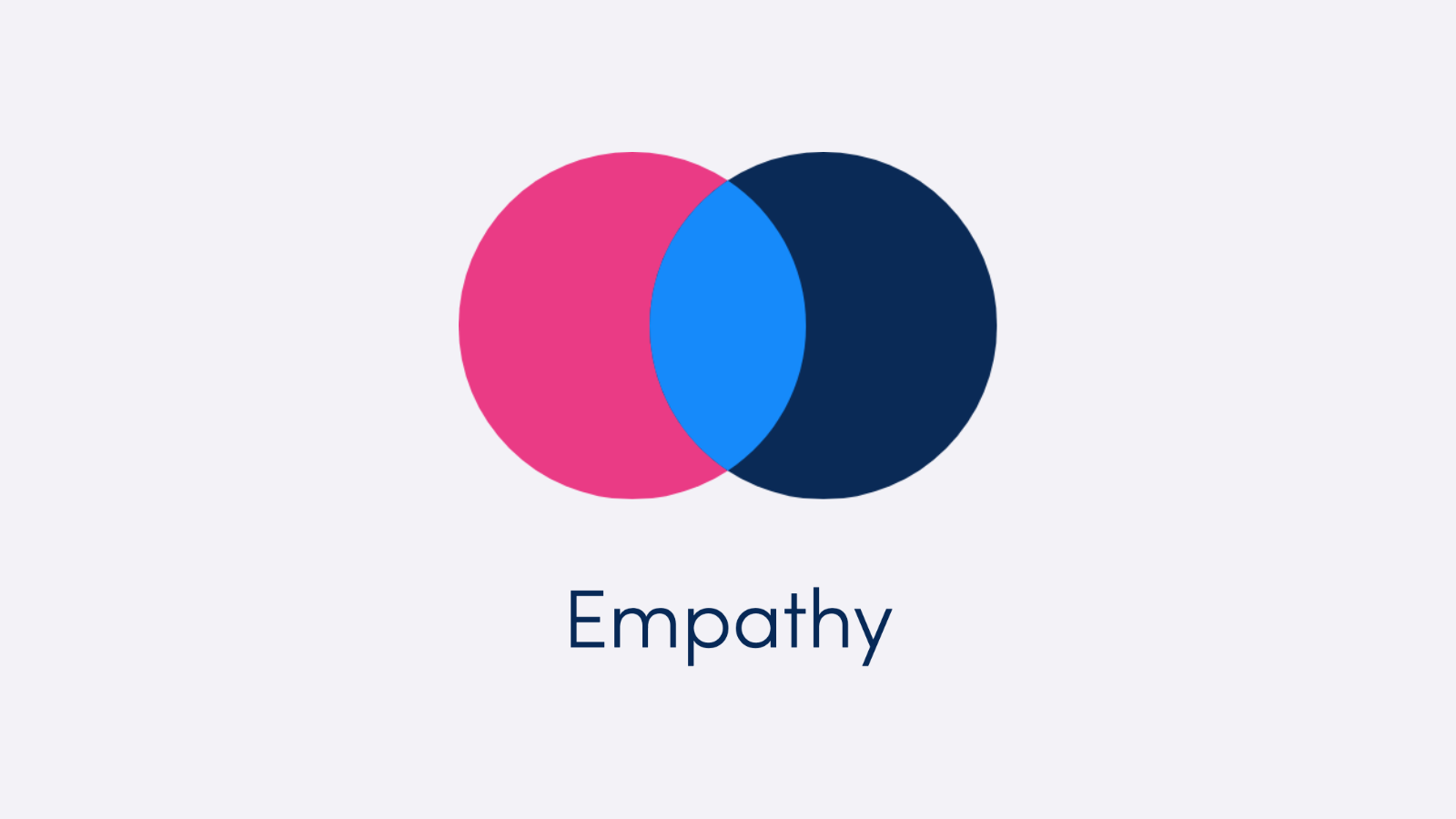 Understanding & Perspective That Shapes the Process & the Product
Empathy comes naturally to our team members, and it's easy for us to find the right questions that get to the heart of our client's intent. We have a deep capacity for understanding a problem from a business, development, and user perspective, holistically framing our entire software development process in the key areas that make a product successful.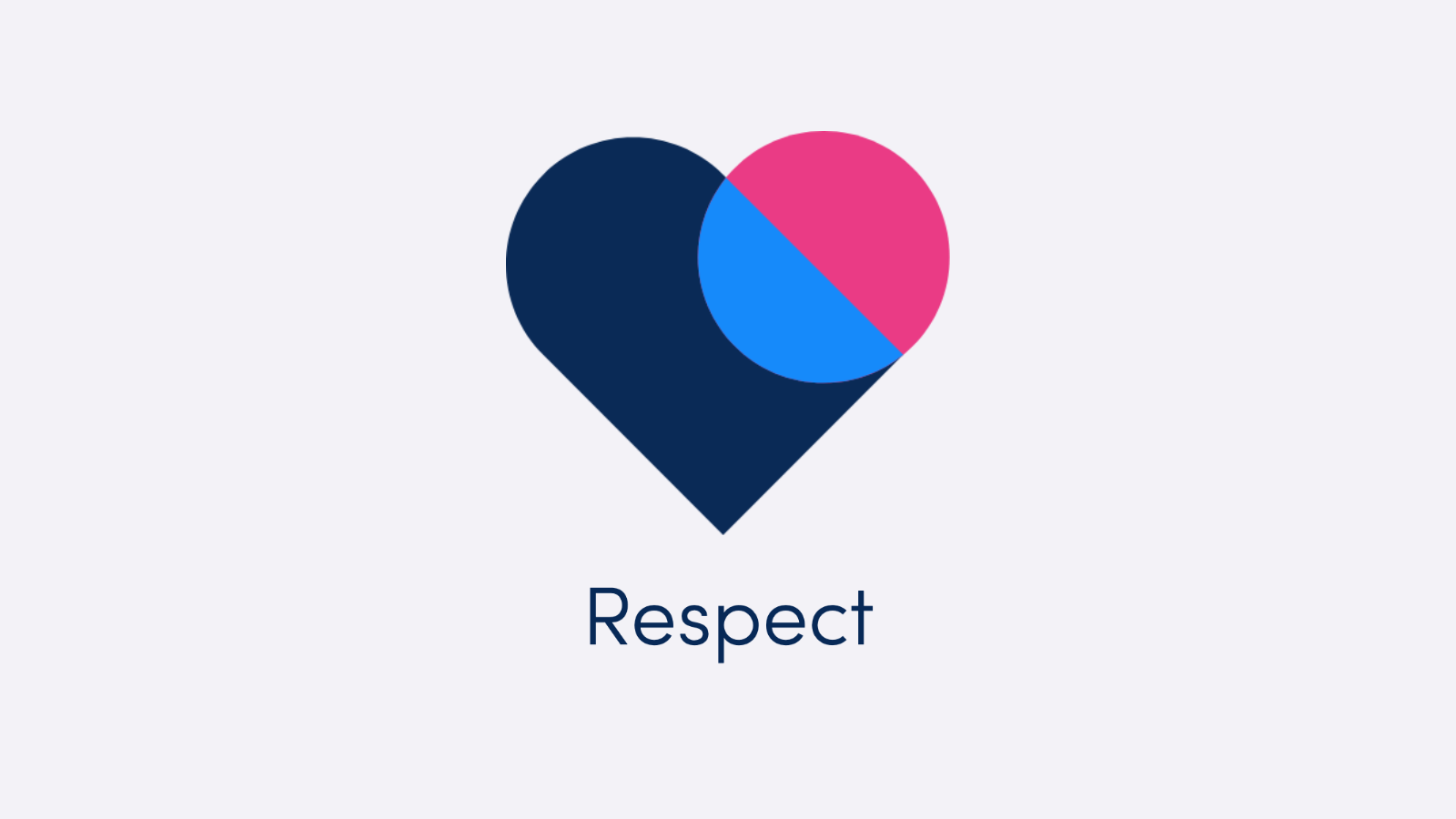 Consideration & Appreciation for Client, Team, & Individual
Diverse backgrounds, skills, hobbies, and perspectives make us a stronger team. We appreciate and embrace each other's differences. We respect our clients and their ideas, and we work hard to approach problem-solving from a positive perspective as equal partners.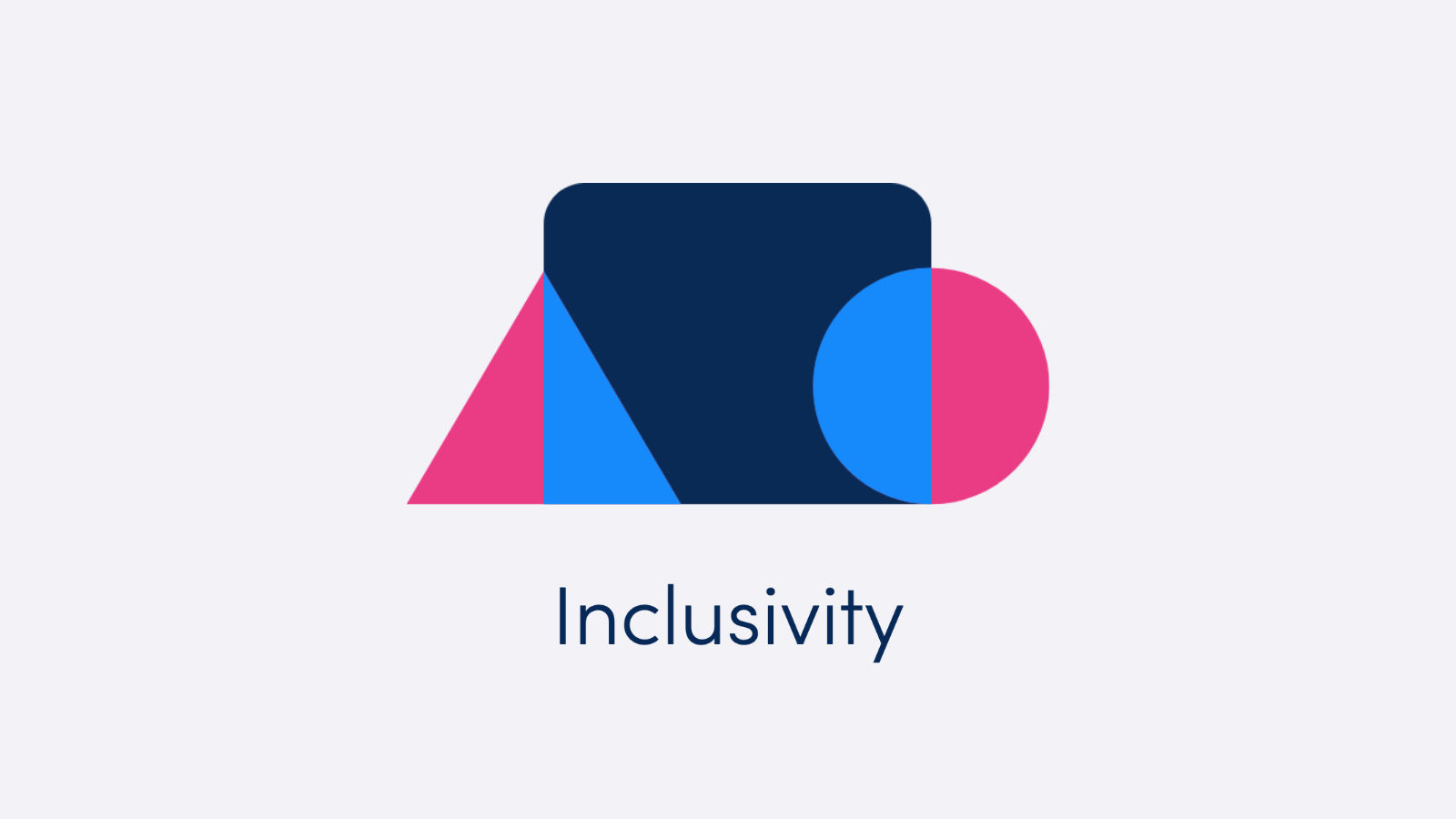 A Mandate Kept Top of Mind for the InspiringApps Team
We seek equality for both our team and our products. Inclusivity best practices are made throughout our software development process. Inclusive recruiting initiatives remain top of mind for our team.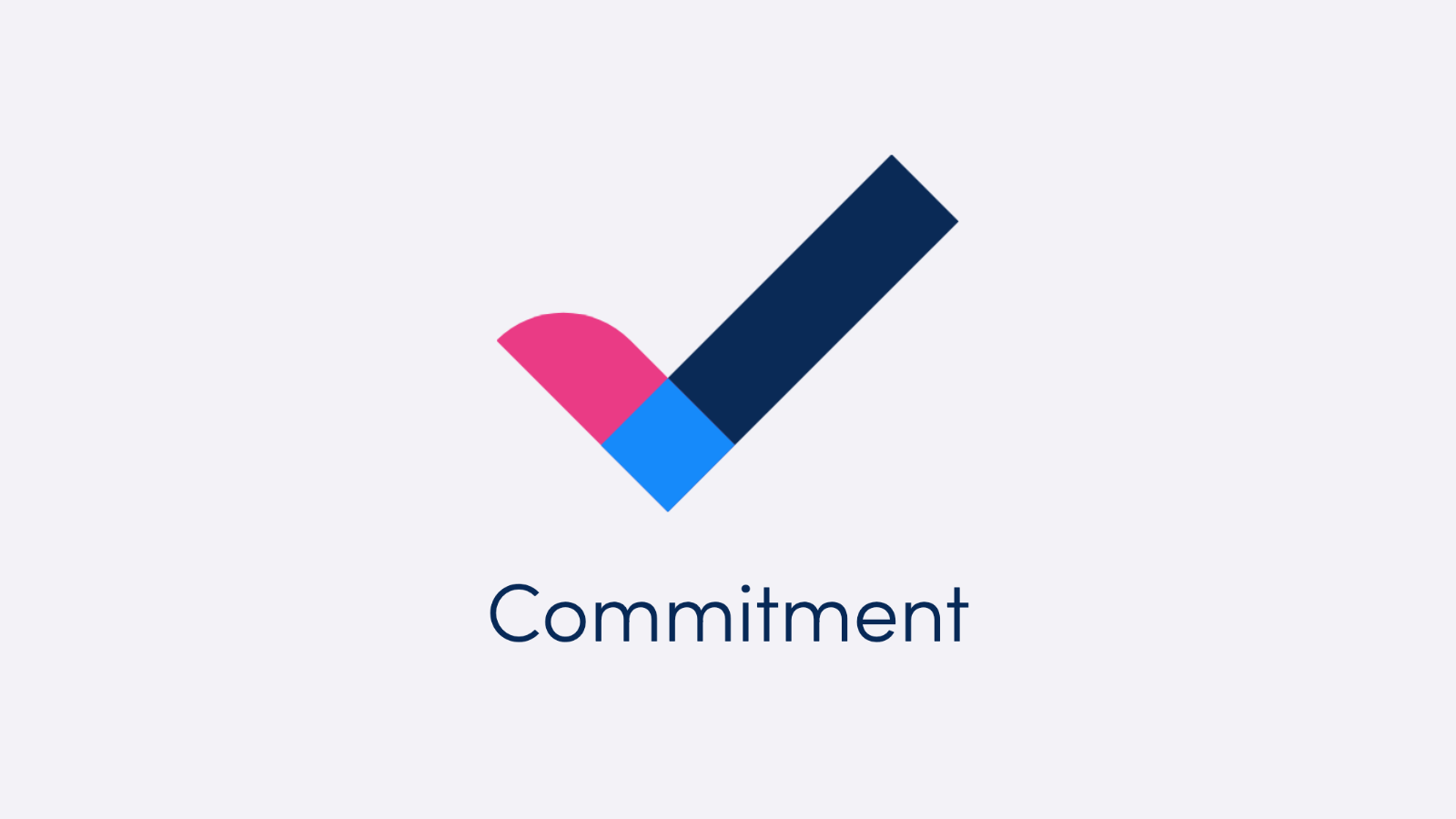 Approaching Tasks & Team With Passion & Intention
Easy to use is often hard to design, so we sweat the details, treating clients' app development projects like our own. Clients repeatedly convey they love working with us because we passionately dig into projects alongside them. Our team is committed to the work and to each other. Small but mighty, the culture has a cohesive atmosphere that never skips a beat.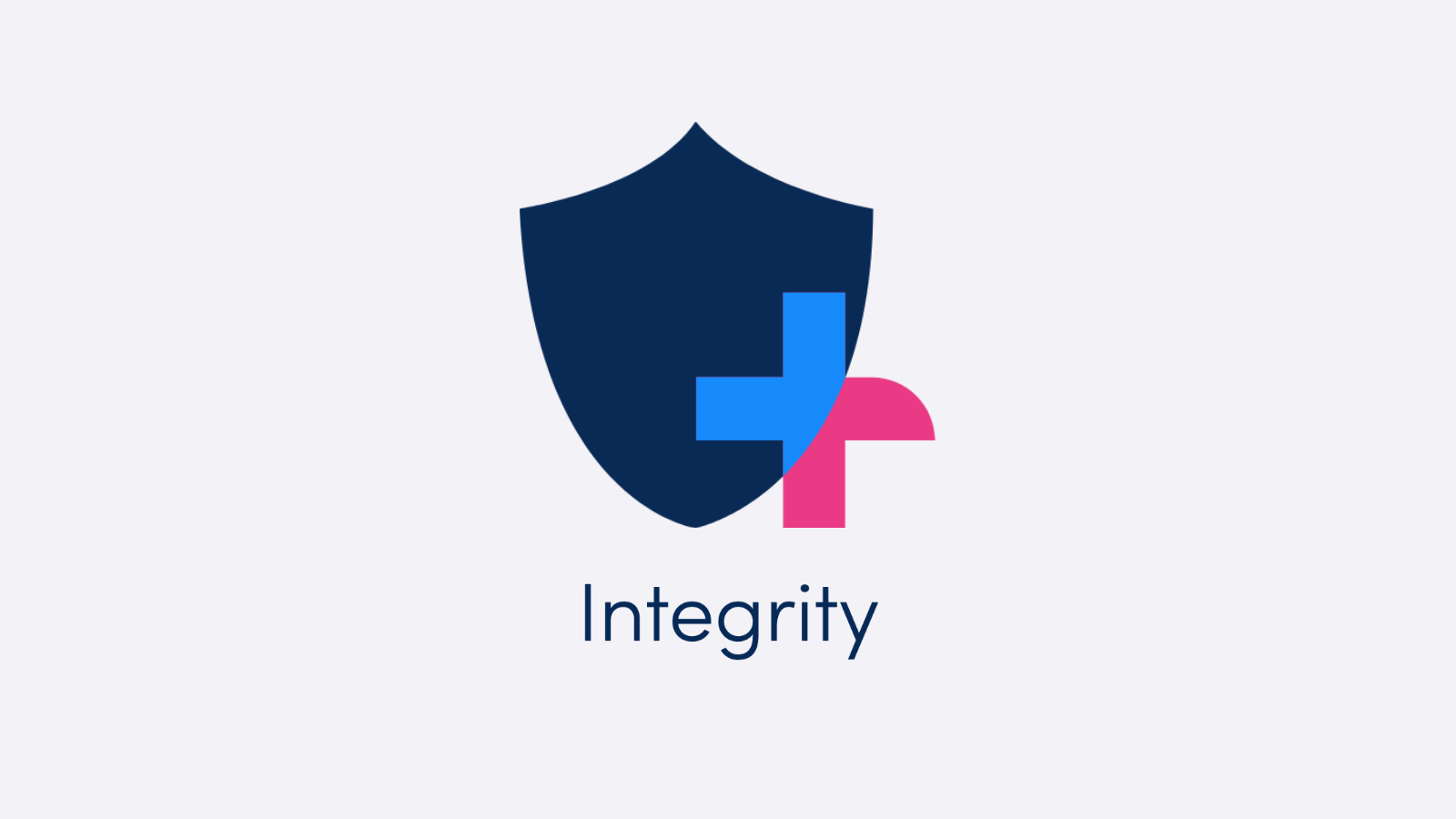 Approaching All With Heart & Authenticity
Integrity is at the core of all we do at InspiringApps and is exhibited throughout our hiring, training, and development practices. Honesty, excellence, and authenticity are as important to us as they are to our clients.
Rewarding Work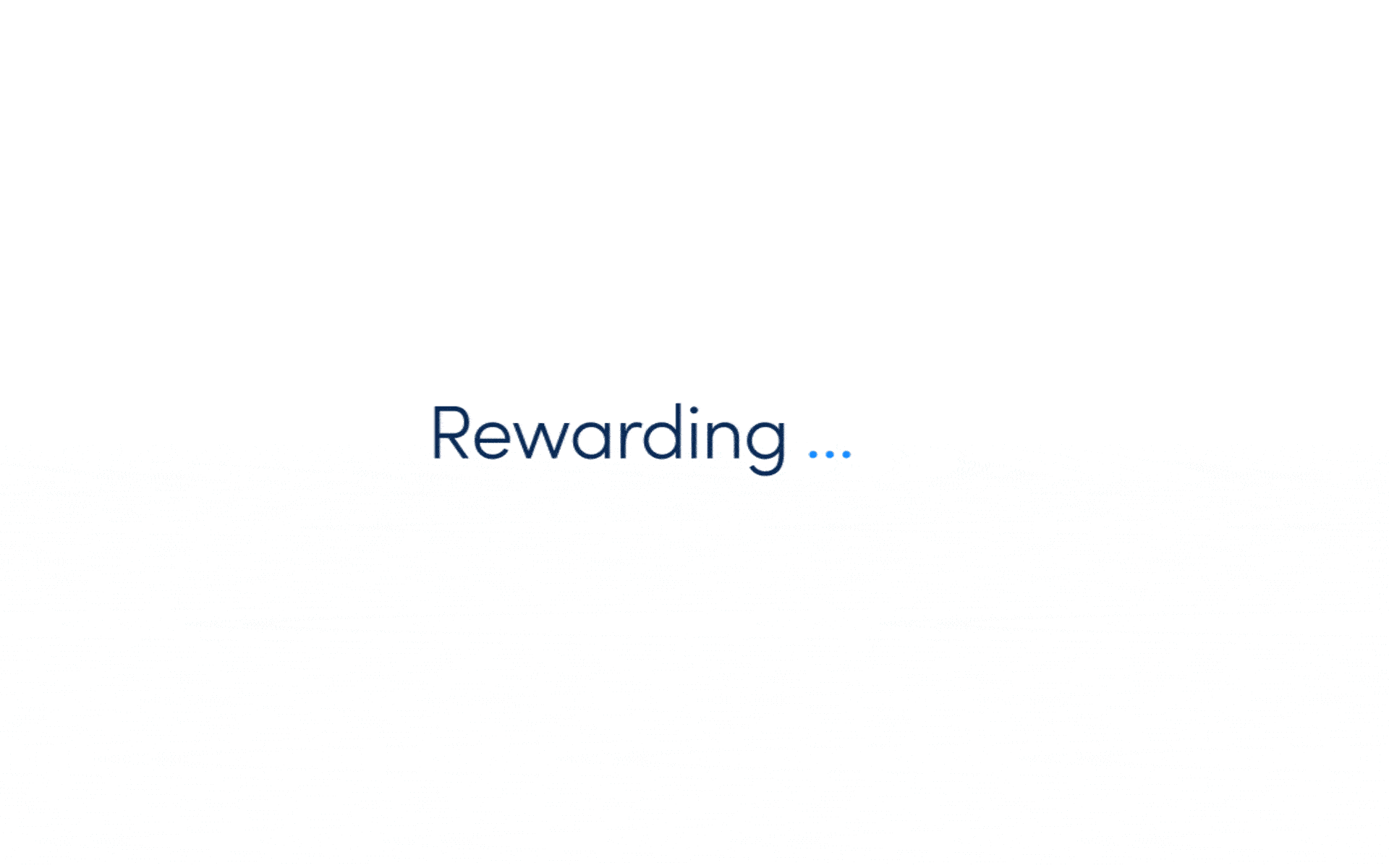 Trust-Based Remote Work & Great Locations
We care about your contribution, and we trust you to meet expectations. While there're general times we're all available, you're empowered to work when and where you work best.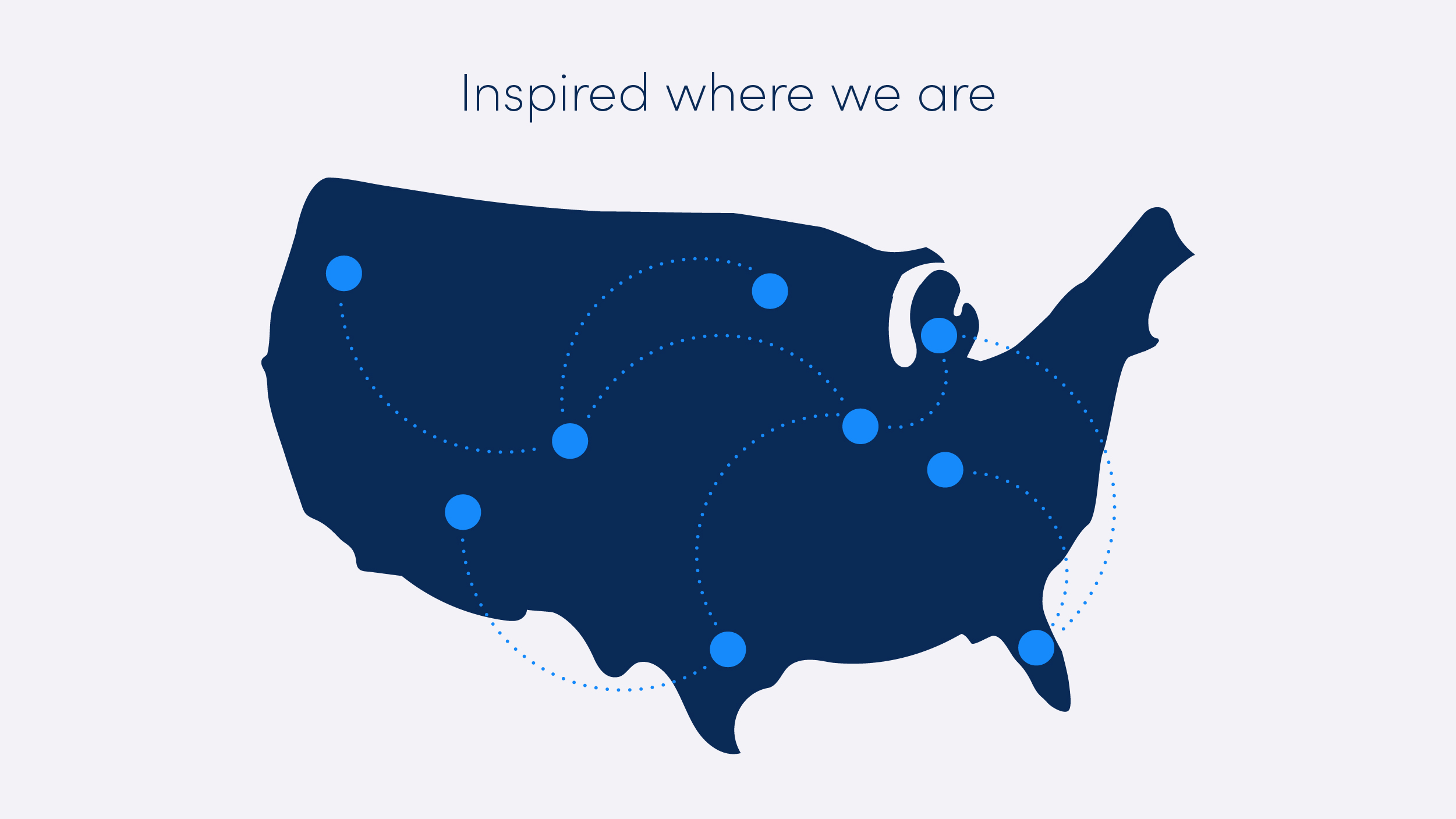 Inspired where we are—that's our mantra. Our teammates work from their homes across the country. But we also have access to our Boulder HQ and coworking spaces in major cities.
Free Healthcare Plans & Lots of Insurance Options
We offer health, dental, vision, life, and AD&D insurance plans at no cost to you. That means we cover 100% of the premium cost for employees for the standard plans. Should you wish to elect extra coverage, there are a variety of plans to choose from. Dependents and spouses are covered at 50% of the premium cost for eligible plans.
Generous Time Off + Parental Leave
We expect everyone to deliver their best. You take care of your work and take the time off you need. For general paid time off or sick time, there's no need to count days. And to support families' health and well-being, we provide two weeks of paid parental leave. Take an additional four weeks of unpaid parental leave or six weeks if you're the primary caregiver.
401(k) With Match & Profit Sharing
Plan for your future and financial independence with InspiringApps' support. We offer a 401(k) plan and will match 4% of your contributions. Furthermore, your work makes a difference to the bottom line, so we share company profits. Opportunities are based on salary, hours worked, and years of service.
Professional Development & Innovation Days
Your ongoing education matters to us. Attend job-related conferences or training sessions. Join learning communities. Mentor others. Ask for what you need to keep your skills sharp.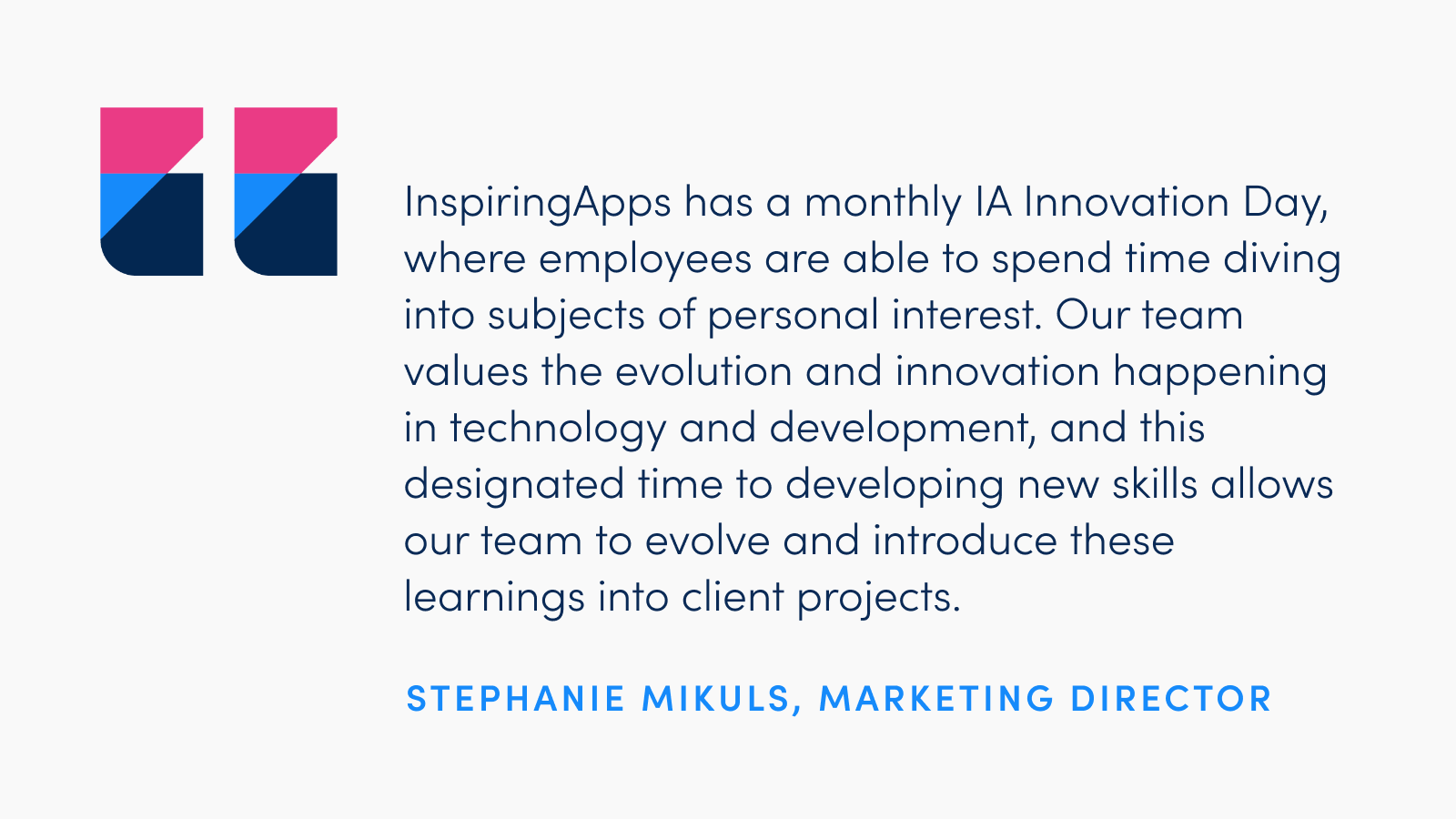 Social Connections
Remote work that feels like a close-knit team: part of the culture at InspiringApps. Drop in for a virtual social hour, join an expense-paid annual getaway, or hang out on Slack. Share a deeper connection with everyone on the team than you'll find elsewhere.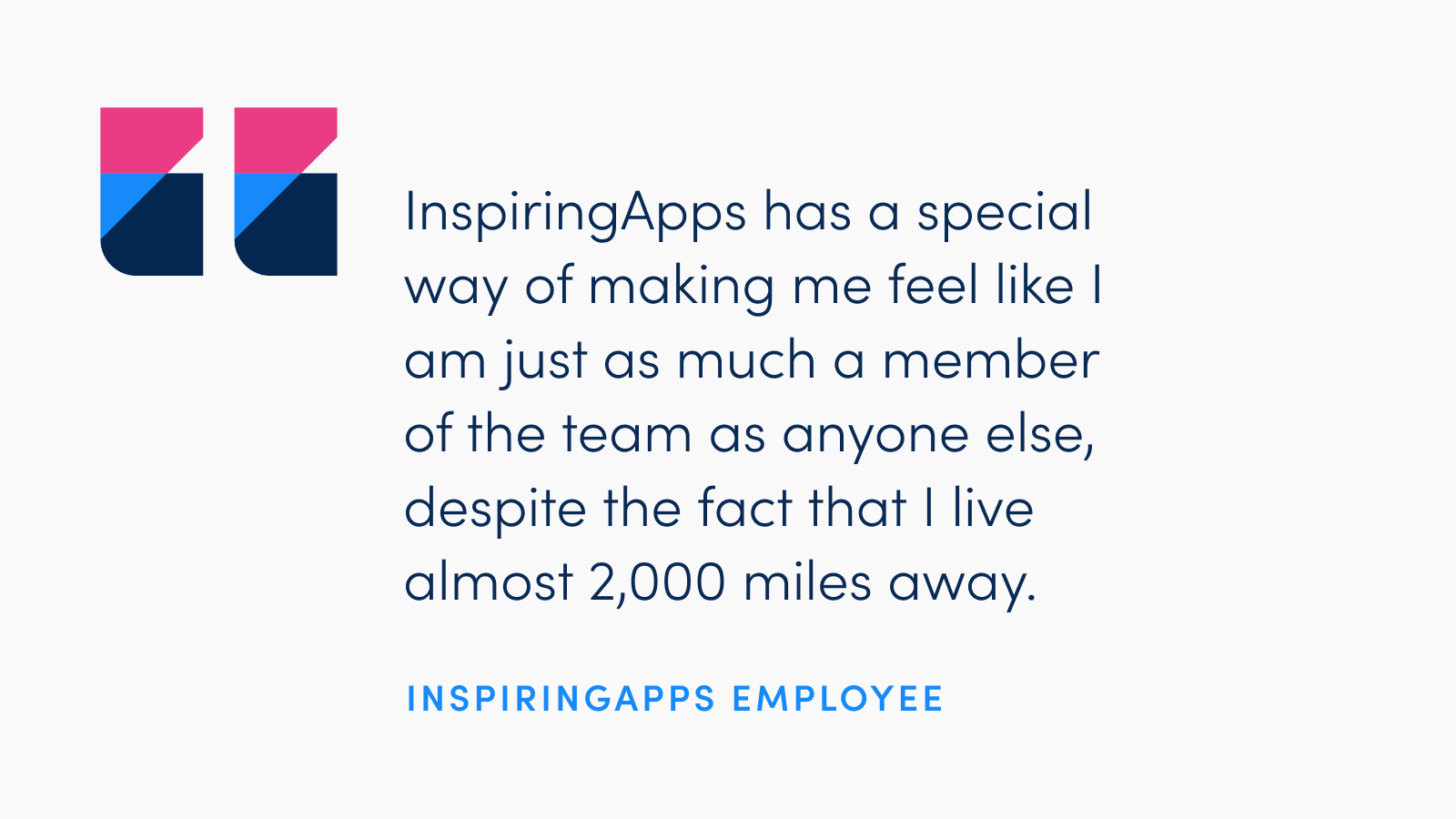 Impact
Join us in doing work that strengthens communities.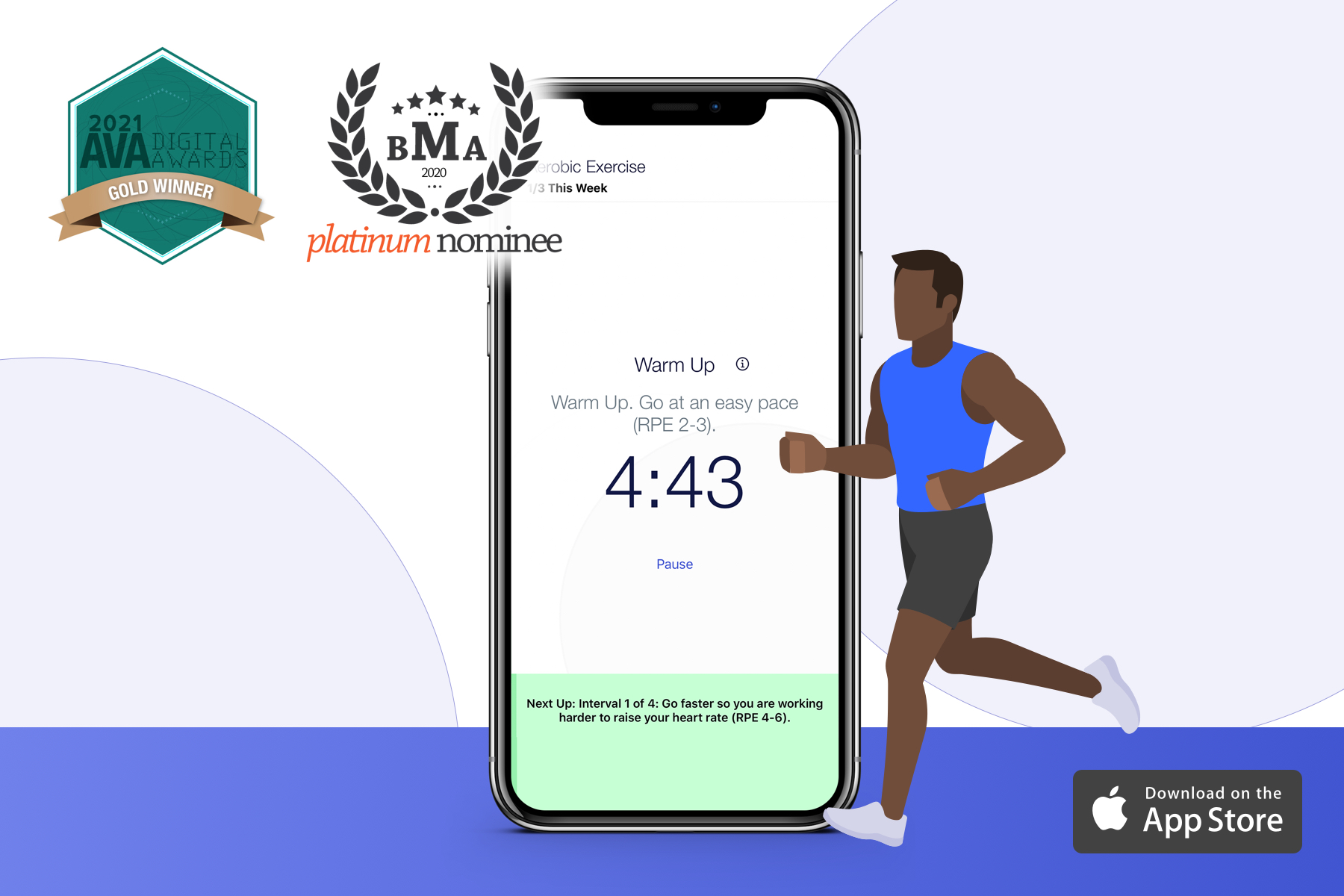 As just one example, the Cancer Exercise app is the first mobile exercise app for iOS specifically designed for cancer survivors of all ages, regardless of their level of physical condition, types and stages of cancer, and types of treatment—and even those who have won the fight and find themselves years beyond treatment.
Our client Anna L. Schwartz, Ph.D., FNP-BC, FAAN, a world-renowned pioneer in cancer and exercise oncology, created the app to bring customized exercise plans to cancer survivors that improve their quality of life.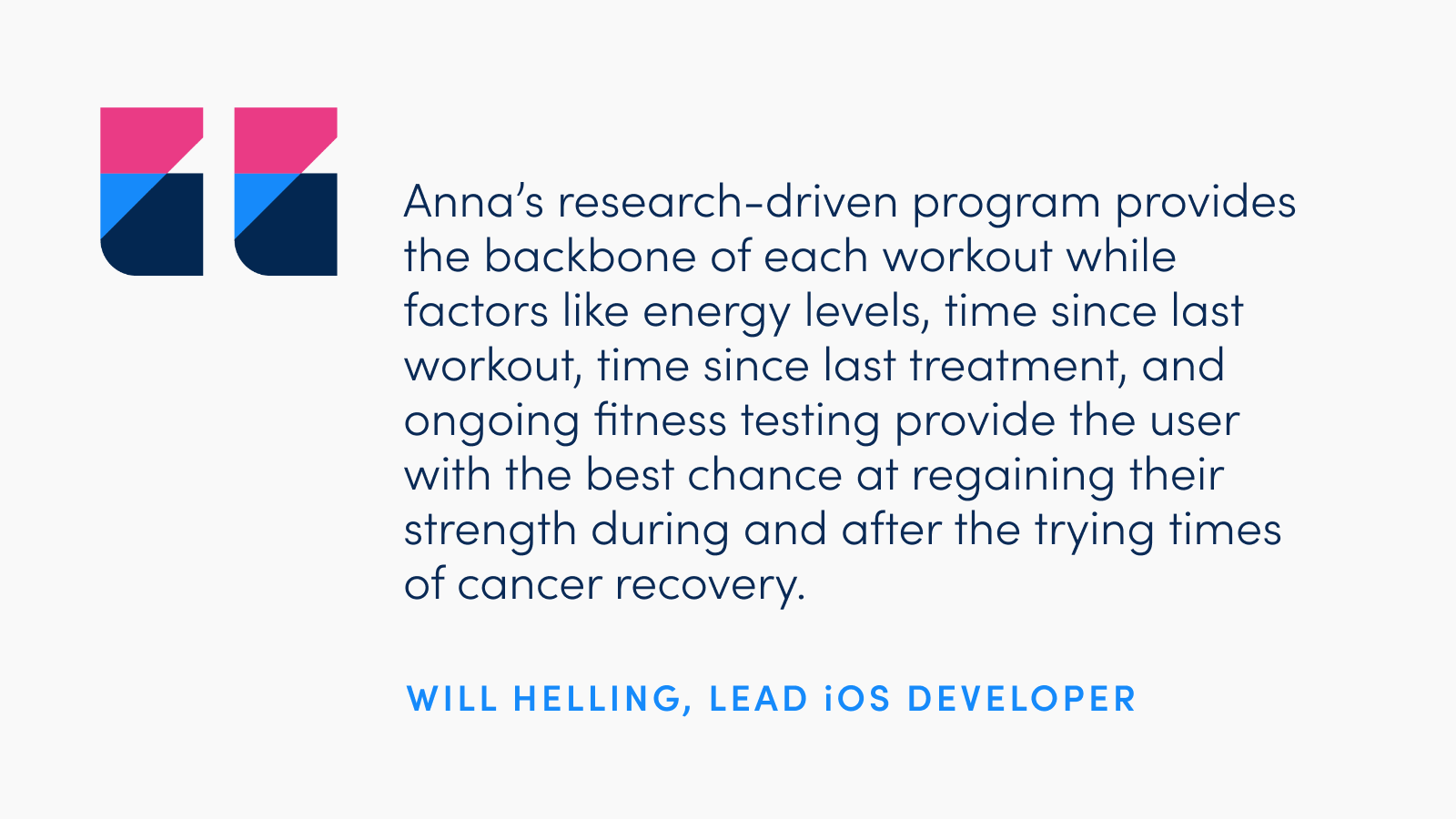 The app was nominated for both a Best Mobile App Award and an AVA Digital Gold Award in its first year.
For more examples, see Impact: When Work Meets Mission.
How We Thrive
Here are our strengths as a group:
Customer Service & Satisfaction
Top & High-Quality Work
Experience & Expertise
Finish Line, Every Time
Empathetic Approach
Establishing Authentic Connections
Partnership & Collaboration
Creativity & Problem-Solving
Aesthetic & Design
Nailing & Improving User Experience
Pitch & Presentation
Happy people make great products. We create strong partnerships with inspired companies, helping companies to positively impact their employees, customers, and communities. InspiringApps' clients say we aren't like vendors; we feel like part of their internal teams.
Happy clients share praise, recommend us, and commit to new work. Our strong company culture fosters loyalty, creativity, and motivation. We're selective in our hiring. We've gathered a diverse and accomplished group, deep with app design and development experts. And about half of our team has worked together for at least five years, providing a cohesion that's unusual in the software industry. Today, our virtual and established team enables us to passionately dig into projects alongside our clients.
Quick Tips & FAQ
I haven't heard back about my application. What should I do?
We've likely proceeded with another candidate if you haven't heard from us about an application you submitted in the last two months. We'll reach out should there be an opportunity in the future. If you have further questions, please email us.
Can I work from anywhere, including locations in other countries?
Nearly all of our roles require our team members to reside in the United States. Although we might make an exception, we prefer that applicants currently live in Colorado, Florida, Texas, Arizona, Illinois, Kentucky, Michigan, Minnesota, or Oregon.
Do you work with other agencies, such as recruitment firms or independent contractors?
We partner with other organizations and individuals occasionally and strategically. However, we have never worked with an external recruiting firm and don't hire independent contractors to work on client-facing projects.
Do you hire for apprenticeship positions?
IA Commits provides additional technical and career training for aspiring software developers. We may also offer internship opportunities in other areas. View our open listings for further information and to apply.
Do I need a degree to work here?
A learner mindset is a commonality we share, but most of our positions don't require a specific degree.
What if I need accommodations for the interview?
If you need accommodations, please let us know. We invest highly in creating an inclusive hiring environment for everyone who applies.
Interested in a career with InspiringApps?
We're always on the hunt for amazing, talented people who will make us a better version of ourselves.