Designing Apps for Gen Alpha
2 months ago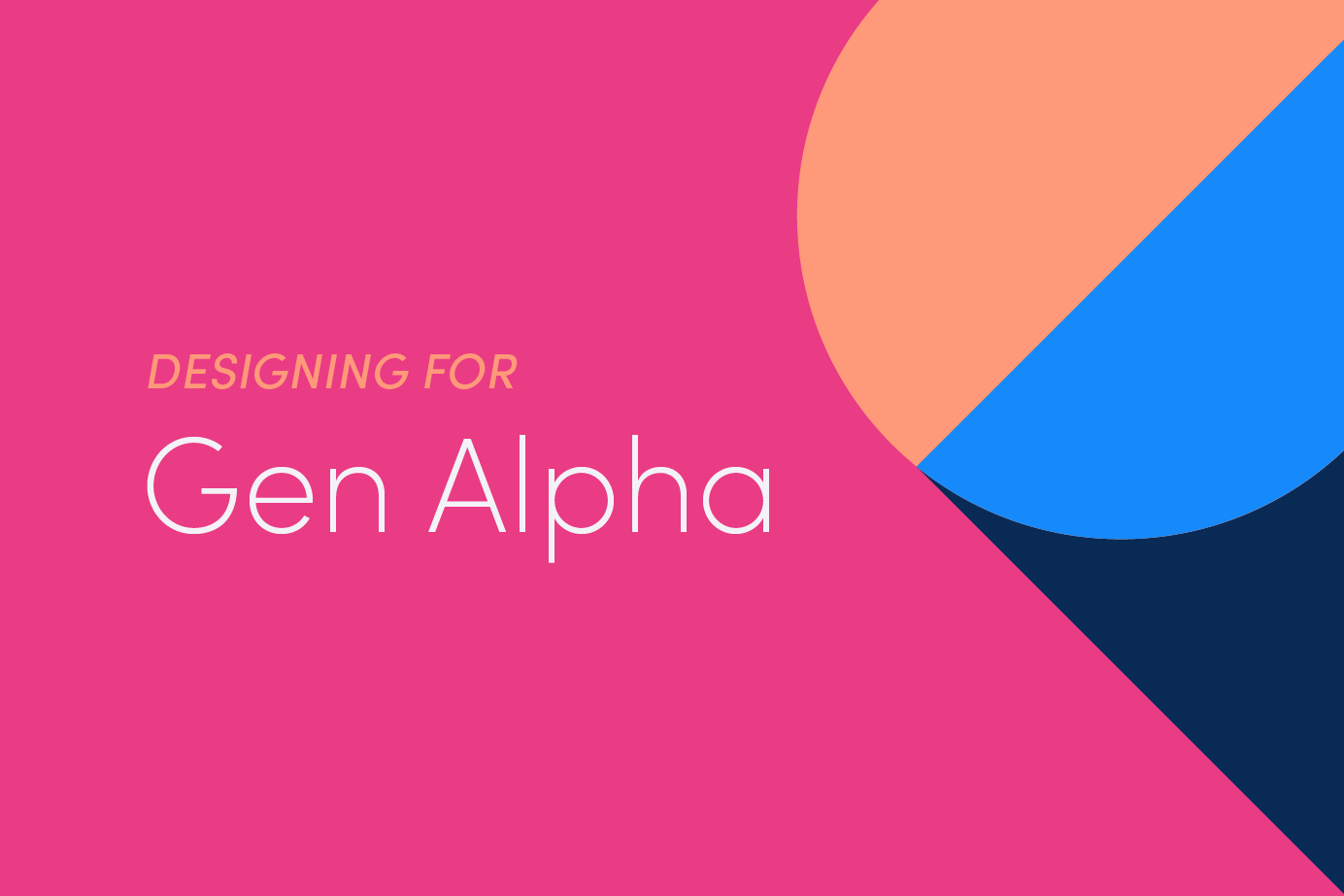 The possibilities are endless when it comes to Gen Alpha. As the most diverse generation, they are forward-thinking and brilliant innovators. Gen Alphas were born into a hyper-technological and entrepreneurial world, making them the most globally connected generation ever. This demographic has tremendous earning potential and will have the highest spending power in history. Technology is a part of daily life. Thus, Gen Alphas prioritize authentic connection and meaningful causes.
In a previous post, Designing Apps for Different Generations, we looked broadly at how your generation influences your relationship to technology throughout your lifetime. Each generation has shared experiences during their formative years that help to shape collective values. These values, in turn, influence motivations, preferences, and expectations regarding technology. As you develop products aimed at this generation, understanding these values can provide insights to consider when designing for Gen Alpha.
Gen Alpha Background
If you can bet on any generation making big waves, it's Generation Alpha. Born in the 21st century from 2010-2025, they're the largest generation and most likely to live the longest. Gen Alphas are also predicted to be the most educated and wealthiest generation of all time.
Born into a global pandemic, this generation has become increasingly immersed in technology and digital experiences. As a result, Gen Alphas seek authentic communication and connection more than ever. Unlike their Millennial parents, Gen Alphas frequent platforms like TikTok, Instagram Live, Houseparty, Clubhouse, and similar platforms. AI is part of their daily lives, and they frequently use technologies like Siri and Alexa (among others) from an early age. Due to shorter attention spans in our increasingly digitalized world, short, easily digestible content is imperative.
Creativity and innovation are common themes among this brilliant and up-and-coming generation. This demographic has a tremendous amount of earning potential. They like to think out of the box, are incredibly technologically savvy, and value the importance of social causes. They tend to place a high value on climate change and inclusivity. Gen Alpha is a passionate group that desires to help others and improve the world around them.
Gen Alpha & Technology
Generation Alpha is immersed in a world of technology. According to McCrindle, Gen Alpha has more screen time than previous generations. The pandemic has only intensified technology use. With few places to go, Gen Alpha kids turned to their screens to combat their inner loneliness.
One must design with authentic influence to bridge the gap between digital technology and the human experience. Gen Alpha is tired of the manufactured experience and is looking for a genuine connection that speaks to them personally. They tend to have short attention spans and are interested in fast-paced, easily-consumable media content. Due to the plethora of information available to this modern generation, Gen Alpha believes strongly in the power of data and is greatly influenced by it.
Gen Alphas are enthusiastic about documenting and sharing their own content and like interacting with others digitally. Influencers can profoundly impact their purchasing decisions. Gen Alphas want customizable, meaningful digital experiences that bring them value and uplift their daily life.
Considerations When Designing for Gen Alpha
Authentic Influence
Niche content creators greatly influence Generation Alpha. That said, this generation is bombarded with influencers and advertisements. We can expect Gen Alpha to distrust brands that seem phony or don't have their best interests at heart. Similarly, they will likely reject traditional forms of marketing much as their Millennial parents did.
Authentic influence is critical for gaining the trust of Generation Alpha. Gen Alphas are looking for genuine connections with brands that align with their values. Raw, real-life experiences, humanized messaging, and value-based technology will be best received best by Gen Alphas. In short—less curated experiences and more authenticity. Having concentrated human-centric features will dramatically shape the Gen Alpha's user experience.
Return on User Experience
Gen Alphas invest in experiences that enrich their lives and, in turn, have high expectations for all elements of their experience. The level of transparency of taking the customer on the journey from start to finish will significantly benefit this generation. They want an immersive experience with the entire process demonstrated to them, not just a cherry-picked, glamorous experience. Leveraging interactive marketing tactics such as user-generated content allows the user to be part of an experience.
Here's a formula to constantly improve a Gen Alpha's user experience:
1. Observe.
Develop a thorough understanding of your customer journeys and pinpoint what matters most to them along the way.
2. Evaluate.
Collect operational data and derive meaningful results with a key performance indicator framework.
3. Act.
Use those insights to improve your app to fit the user's preferences and desires. A rule-based action engine can help expedite and automate the process.
Connected to Social Issues
Generation Alpha cares deeply about social issues. Causes like climate change, diversity and inclusion, fair representation, acceptance, and sustainability will be at the forefront of their value system. They'll be seeking out brands and technologies that combat social issues. With that in mind, be transparent about your mission, impact, and what you do to solve it.
Brands looking to engage with this audience must embody and foster inclusive and accepting environments. As the most diverse generation, brands can build trust by representing their consumers authentically.
Here are some questions to consider when designing for Gen Alpha:
What are the demographic and psychographics of the country?
How can you reduce our imprint on the environment and create a more sustainable solution?
Where are there additional opportunities for broader representation?
Concluding Thoughts on Designing for Gen Alpha
Taking Gen Alphas' background, needs, and technological preferences into account will help broaden your app's reach and market potential.
Many digital products can potentially be solutions for users spanning multiple generations, so there is much to consider. In addition to our free guide, Designing Digital Products for Every Generation, we've highlighted key takeaways on designing digital products for Gen Z, Millennials, Gen X, Baby Boomers, and for all.
If you have questions or concerns about designing for Gen Alpha—or any other generation—we would be happy to consult with you free of charge. Get in touch with us today!
Download our free development guide
In How to Design Digital Products for Every Generation, we share practical takeaways for any company looking to create a successful digital product—with audience strategy on designing for each generation and designing for all.