Submit App Privacy Details to Apple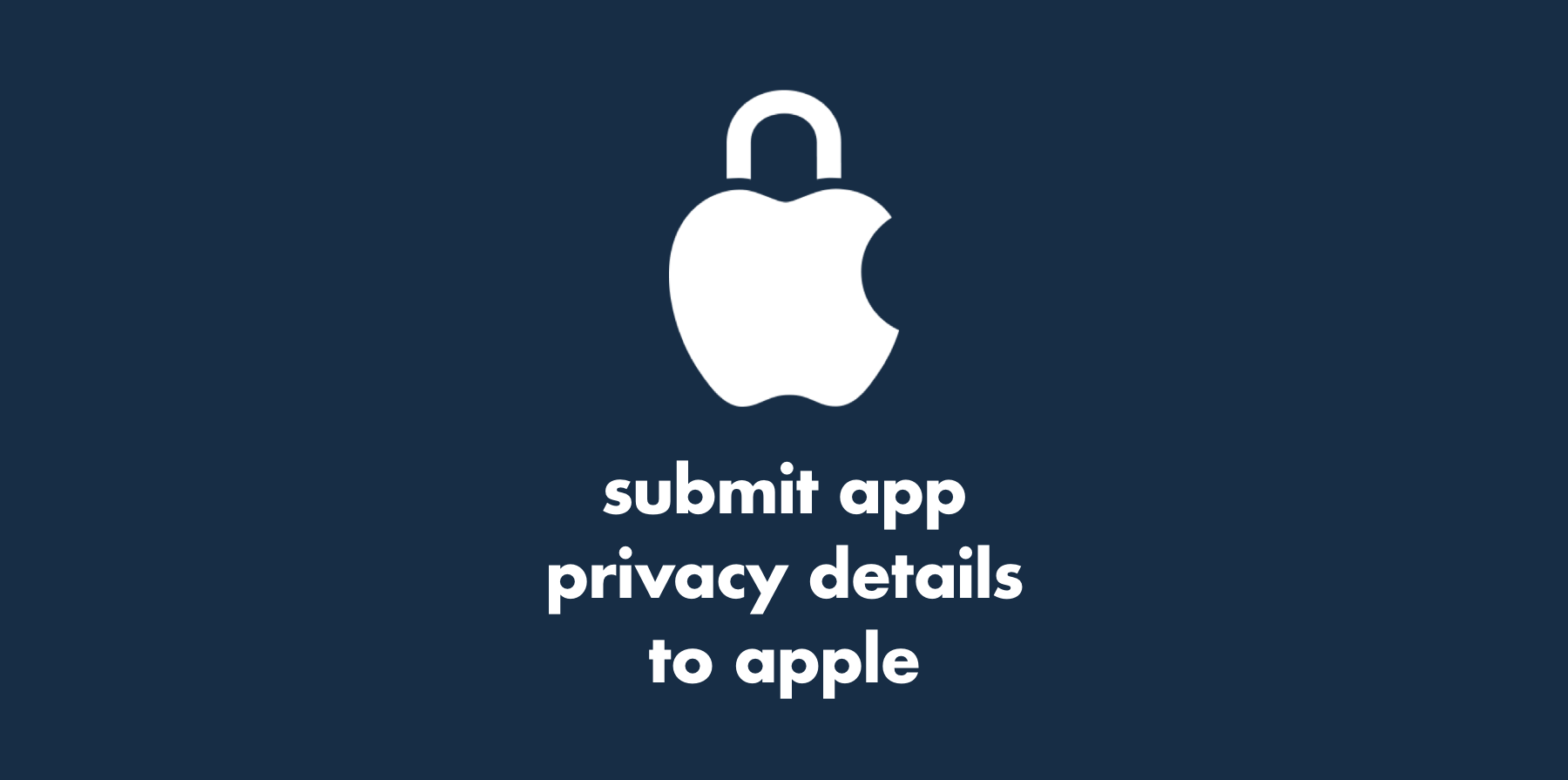 Overview
Developers must now provide app privacy details to Apple. In late 2020, Apple introduced new information disclosure requirements to address consumer demand for greater transparency in data usage. This change followed growing concern that developers may be using private data in surprising ways without their customers' awareness or permission. As a result of Apple's new privacy requirements, all apps and app updates submitted to the App Store must now include answers to a privacy questionnaire.
Apple Privacy Questionnaire
Follow the steps below to complete the app privacy details questionnaire. In our experience, the questionnaire takes approximately 15-30 minutes to complete. Your legal and development teams will likely need to work together to accurately complete the process. Moreover, collaboration among team members will ensure that your organization obtains the best possible results.
Part 1
Start by navigating to your app in App Store Connect. Click App Privacy in the left sidebar.
Select Get Started in the center of the page.
You will then be directed to Apple's definitions of "Collect" and "Third-party partners." After reviewing this information, answer the following question: Do you or your third-party partners collect data from this app?


A No response will make for a short questionnaire; however, this answer is rarely accurate. Most apps collect usage data to inform future decisions regarding app enhancements. If the collection is anonymized and not connected to a particular device, session, or user, then a "No" response may be appropriate.
A Yes answer will prompt further inquiry into the types of data that you and your third-party partners collect.

As mentioned previously, a Yes response will subsequently require you to provide information on your data collection practices. Apple groups data into the 13 categories below. Be sure to check a box next to each type of data that your app collects. Specific requirements for each category may change. Therefore, please consult the form for further information.

Contact Info
Health and Fitness
Financial Info
Location
Sensitive Info (for example, race, ethnicity, sexual orientation, pregnancy, etc.)
Contacts
User Content (this includes emails or text messages, gameplay content, customer support, and more)
Browsing History
Search History
Identifiers (specifically, user ID and device ID)
Purchases
Usage Data (product interaction, advertising data, etc.)
Diagnostics
Other Data (i.e. any other data types not mentioned)


Part 2

Now that you've selected the data categories that are captured in your app, you can complete the final round of follow-up questions. The following 6 data usage subcategories must be addressed:
Third-Party Advertising, such as displaying third-party ads in your app or sharing data with entities who display third-party ads
Developer's Advertising or Marketing, including displaying first-party ads in your app, sending marketing communications directly to your users, or sharing data with entities who will display your ads
Analytics—in other words, using data to evaluate user behaviors, including understanding the effectiveness of existing product features, planning new features, or measuring audience size or characteristics
Product Personalization, or customizing what the user sees
App Functionality, including collecting data to authenticate users, enable features to prevent fraud, and improve scalability and performance (among several others)
Other Purposes, meaning any other purpose not listed
Depending on the types of data that your app collects, you may be answering well over 100 questions in total. Your responses will then help generate a "security nutrition label" for your app. Apple displays this label with your app in its App Store listing. Consequently, this new requirement aims to help users make informed decisions about their data privacy.
After providing answers to all of the questions in the two stages of the questionnaire, you can finally click the Publish button on the main App Privacy page for your app. By making this selection, you've finally completed Apple's privacy details requirement. You're now ready to submit your app for review.